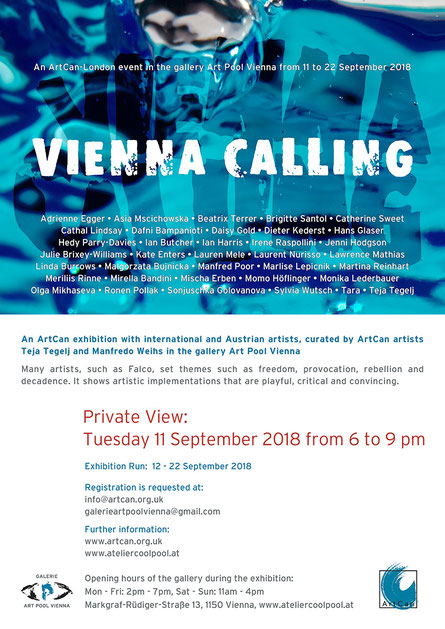 Vienna Calling is an ArtCan art exhibition with international and Austrian artists in the gallery Art Pool Vienna. It shows artistic implementations that are playful, critical, and convincing. Curated by ArtCan artists Teja Tegelj and Manfredo Weihs. The call that many artists, including Vienna born pop icon Falco, had dealt with the recurring themes of freedom, provocation, rebellion and decadence, is now followed by 36 artists with their works in this new exhibition.
The artists include:
Adrienne Egger • Asia Mscichowska • Beatrix Terrer • Brigitte Santol • Catherine Sweet * Cathal Lindsay • Dafni Bampanioti • Daisy Gold • Dieter Kederst • Hans Glaser * Hedy Parry-Davies • Ian Butcher • Ian Harris • Irene Raspollini • Jenni Hodgson * Julie Brixey-Williams • Kate Enters • Lauren Mele • Laurent Nurisso • Lawrence Mathias * Linda Burrows • Malgorzata Bujnicka • Manfred Poor • Marlise Lepicnik • Martina Reinhart * Meriliis Rinne • Mirella Bandini • Mischa Erben • Momo Höflinger • Monika Lederbauer * Olga Mikhaseva • Ronen Pollak • Sonjuschka Golovanova • Sylvia Wutsch • Teja Tegelj * Tara
Excerts from "Freedom for all" by Laurent Nurisso
This work challenges the notion that whoever you are, straight or gay, whatever the colour of your skin - politics, religion, racism and hate destroys and changes lives. Our liberty and freedom, which we often take for granted is both fragile and can be taken away in a split second - just like a small pile of stones balancing one on top the other, they can easily collapse and fall. I deliberately wanted to be provocative with this work which is the reason why I want to deal with aspects of racism, suppression of freedom, aggression, homophobia, as well as the problems faced by immigrants who go in search of freedom and a new life. This work seeks a deliberate strong message which is why I'm saying - 'don't let others take away our dreams or our freedom'.
This year alone close to 2,000 people have drowned in the Mediterranean sea, just trying to escape oppressive regimes, and we, the counries of Europe continue to play political games with the lives of people who only want the same liberty that most of us enjoy. I want to highlight the growing numbers of homophobic attacks on gay men and women, especially here in my home country - yes we have liberty to express ourselves, but there are a lot of 'assholes' out there who think they have the right to take that from us. I want to highlight growing domestic violence and the hatred of other people because of their ethnic origins. I also want to express my concerns of the growing numbers of dangerous far-right conservatism that wants nothing more than to inflict its unhealthy 'family' values across the countries of Europe - especially Austria, Italy and here in France. (Remember too that for the UK, Brexit was fuelled by 'conservative' people who used the threat of immigration as a tool to put fear into people's minds.) These are all problems that affect us here in France, in Europe and across the World - I hope people will see a hope and optimism in this work, because there can be hope, providing we stand up to those who believe we have no voice.
"Freedom for all", my latest work is 117cm x 105cm - oil paint on custom made canvas, wood and linen. The work is for sale through Atelier Cool Pool, Markgraf-Rüdiger Strasse 13, 1150 Wien, Austria 11-22 September.
---